Posted by Roger on Wednesday, February 6th, 2008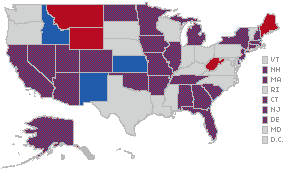 So, Yesterday was "Super Tuesday" as they call it. The Democratic and Republican primaries in Illinois are finished.
Obama and McCain win Illinois. Locally, Oberweis beats out Lauzen.
What are your thoughts on the primary's results?
Also, I read an interesting news article at GOPUSA.com. Here's the start of it:
BEYOND OUTRAGEOUS: Of DuPage County's 549,621 registered voters, 131,635-24% cast Democrat primary ballots, but only 108,582-18% cast Republican primary ballots
It appears that a good number of people crossed over to vote on the other ballot. Maybe people do not have a loyalty to one party or the other, or maybe there was a different reason.
If you voted on a different ballot that "normal", what was your reason, and who did you support?
Thanks and God Bless,
Roger
Election results at CNN.com
This entry was posted on Wednesday, February 6th, 2008 at 1:13 pm and is filed under Legal and Political, News. You can follow any responses to this entry through the RSS 2.0 feed. Both comments and pings are currently closed.